Introduction
KOC has established a production base of patch cords in 2005 therefore besides various connectors and corresponding adapters we can make jumpers as requested based on different cables Our product comes in many types such as simplex duplex multi-core bunchy and ribbon type Up to now ,we own about several years of production experience and we provide patch leads with ligh quality and at a reasonable price for ovre 300 enterprises at home and abroad.
Patch Cord Production Conventional Process Flow Diagram:
Order Confirmation →Cleaving Cable →Passing Through Components And Parts →Striping Cable And Striping Fiber →Epoxy Defoaming →Checking Fiber And Cleaning →Polishing →Inserting Fiber And Curing →End Face Initial Inspection →Optical Indexes Testing →End Face Inspection →Assembling and Crimping →Machine Grinding →Cleaving Fiber And Manual Grinding → NG →Tensile Test →Analysis →Analysis →Appearance Inspection →Packing
Brief Introduction
Mode Conditioning patch cord (also called Gigabit Launch cables) are designed for Gigabit Ethernet 1000Base-LX network and other applications where both dingle-mode and multi-mode interconnects needed. As Gigabit-LX can use both single-mode and multi-mode cables, when a Gigabit-LX transceiver is operated with single-mode cable and directly coupled to Multi-mode cables, an effect known as Differential Mode Delay(DMD) might occur. DMD limit the cable distance lengths for operating Gigabit Ethernet. Mode conditioning cable can enable a single-mode signal to be correctly send through a multimode network...
FEATURES
Eliminates issues related to Differential Mode
Delay (DMD)
Compliant with IEEE 802.3z
Rugged Offset Closure with Consistent Offset
50um and 62.5um multi mode cable are available.
APPLICATIONS
Long Haul to Short Haul LX Gigibit System
Recommended for multi mode cable runs
Gigabit Ethernet 1000Base-LX (1300nm long wavelength)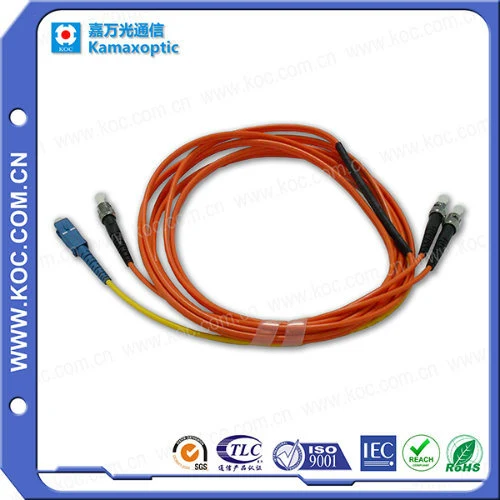 SPECIFICATIONS
ITEM
Parameter
Insertion Loss
Optical source direction
Test wavelength
Insertion Loss
MM→SM
850nm,1300nm
≤15.0dB(50/125um); ≤18.0dB(62.5/125um)
SM→MM
850nm,1300nm
Max≤0.30dB
MM→SM
1310nm,1550nm
≤2.10dB(50/125um); ≤2.60dB(62.5/125um)
Return Loss
APC≥60.0Db;UPC≥50.0dB
≥35.0dB
Durability
≤0.20dB typical change,1000 mating
Tensile Strength
≥120N(without 0.9mm patchcord) or customized
Operating Temperature
-20ºC to +70ºC
Storage Temperature
-40ºC to +85ºC
| | | | |
| --- | --- | --- | --- |
| Optical Specifications | Single Mode 9/125 | Multi-mode 50/125 | Multi-mode 62.5/125 |
| Insertion loss(Typical) | 0.3 dB | 0.2 dB | 0.2 dB |
| Insertion loss(Max) | 0.8 dB | 0.7 dB | 0.7 dB |
| TemperatureRange | -40ºC-85ºC | -40ºC-85ºC | -40ºC-85ºC |
| Mating Durability(500 cycles) | <0.2 dB | <0.2 dB | 0.2 |
| Buffer Diameter(um) | 250 | 250 | 250 |
| Attenuation, dB/km Max. | 3.3 | 1 | 0.5 |
| Numerical Aperture(NA) | 0.13 | 0.2 | 0.275 |
Fiber specifications
| | | | |
| --- | --- | --- | --- |
| | Single Mode 9/125 | Multi-mode 50/125 | Multi-mode 62.5/125 |
| Connector Type | FC, ST, SC, LC, MU | FC, ST, SC, LC, MU | FC, ST, SC, LC, MU |
| Wavelength (um) | 1310/1550 | 850/1310 | 850/1310 |
| Core Diameter (um) | 9 | 50 | 62.5 |
| Cladding Diameter (um) | 125 | 125 | 125 |
| Buffer Diameter (um) | 250 | 250 | 250 |
| Cable Diameter (um) | 2000/3000 | 2000/3000 | 2000/3000 |
Ordering Information
SM Side
MM Side
Connector
Fiber Type
Connector
Fiber Type
Cable Jacket
Cable Size
Length
FC
9: 9/125
_FC
5: 50/125
_L: LSZH
18: 1.8mm
_
SC
_SC
6: 62.5/125
_P: PVC
20: 2.0mm
ST
_ST
30: 3.0mm
MTRJ
_MTRJ
LC
_LC
MU
_MU