All Dielectric Self-supporting Aerial Cable(ADSS)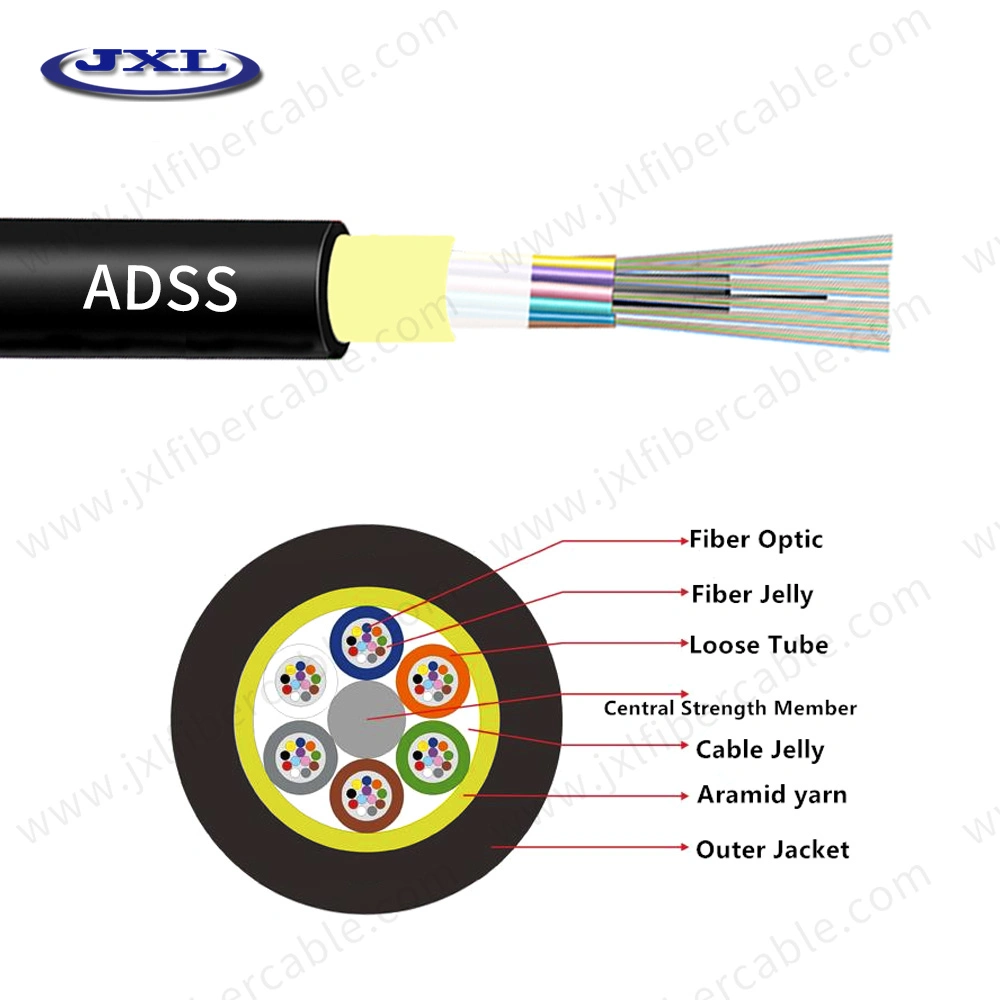 Characteristics
· Can be installed without shutting off the power
· Excellent AT performance, The maximum inductive at the operating point of AT sheath can reach 25kV
· Light weight and small diameter reducing the load caused by ice and wind and the load on towers and back props
· Large span lengths and the largest span is over 1000m
· Good performance of tensile strength and temperature
· The design life span is 30 years
Optical Characteristics
G.652
G.655
50/125μm
62.5/125μm
Attenuation
(+20ºC)
@850nm
≤3.0 dB/km
≤3.0 dB/km
@1300nm
≤1.0 dB/km
≤1.0 dB/km
@1310nm
≤0.36 dB/km
≤0.40 dB/km
@1550nm
≤0.22 dB/km
≤0.23dB/km
Bandwidth (Class A)
@850nm
≥500 MHz·km
≥200 MHz·km
@1300nm
≥1000 MHz·km
≥600 MHz·km
Numerical Aperture
0.200±0.015NA
0.275±0.015NA
Cable Cut-off Wavelength λcc
≤1260nm
≤1480nm
Technical Parameters
Ref.outer diameter
mm
Ref.weight
kg/km
Ref.daily max.working
tension
kN
Max allowable working tension kN
Break strength
kN
Strength member CSA


mm2
Modulus of elasticity kN/ mm2
Heat expansion coefficient ×10-6 /k
PE sheath
AT sheath
12.5
125
136
1.5
4
10
4.6
7.6
1.8
13.0
132
142
2.25
6
15
7.6
8.3
1.5
13.3
137
148
3.0
8
20
10.35
9.45
1.3
13.6
145
156
3.6
10
24
13.8
10.8
1.2
13.8
147
159
4.5
12
30
14.3
11.8
1.0
14.5
164
177
5.4
15
36
18.4
13.6
0.9
14.9
171
185
6.75
18
45
22.0
16.4
0.6
15.1
179
193
7.95
22
53
26.4
18.0
0.3
15.5
190
204
9.0
26
60
32.2
19.1
0.1
15.6
194
208
10.5
28
70
33.0
19.6
0.1
16.3
211
226
12.75
34
85
40.0
20.1
0.1
16.8
226
242
15.45
41
103
48.0
24.0
-0.4
17.2
236
253
16.2
45
108
51.0
25.1
-0.5
17.9
249
266
18.0
50
120
58.8
26.1
-0.8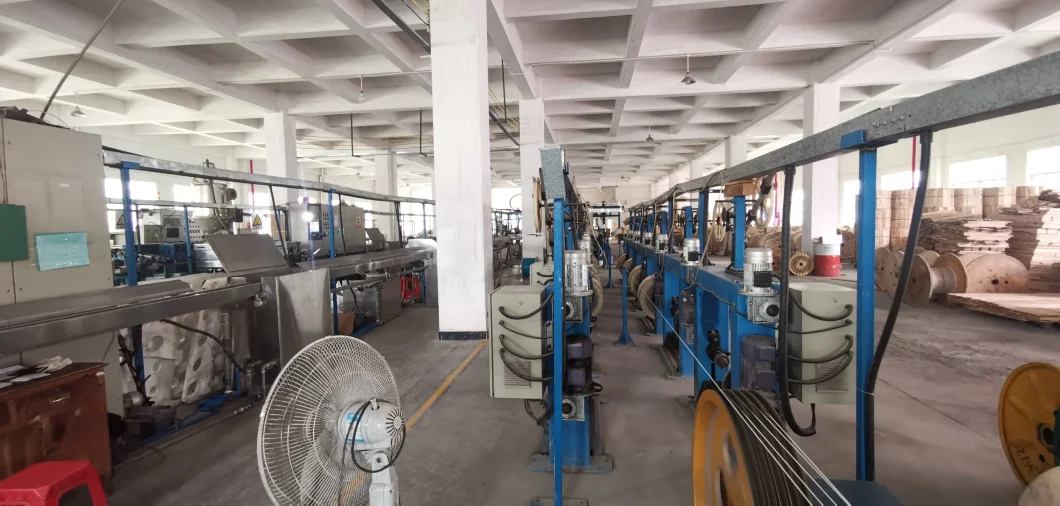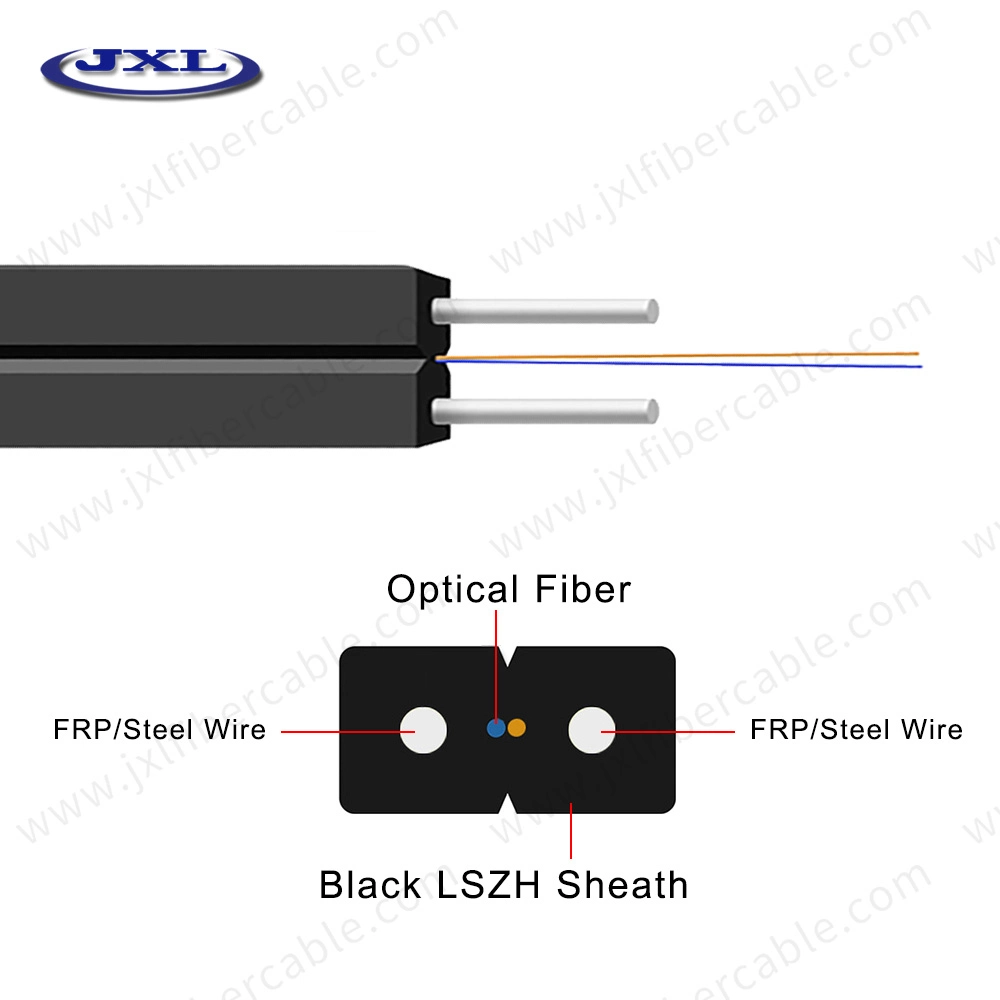 Guangdong Juxianlan Communication Co., Ltd. Was established in 2014 and specializing in manufacturing fiber optic products and providing fiber optic solutions and engineering services in Guangdong, China.

As a professional cable manufacturer, we are committed to providing customers around the world with comprehensive products, the latest technology, and professional services to help customers to build a high-quality network platform. Combining with the actual needs of customers, we are providing individualized and comprehensive solutions to meet customers′ demands.

We offer the whole range of equipment for fiber optic, Telecom (FTTH, 4G/5G Mobile Stations, etc. ), Ethernet, and CATV network. Each unit of our products will go through 3 QC procedures: Material checking before production, stability and performance testing after production and packing checking before delivery.

Currently, most of our products have been exported to Europe, Russia, and South America. Welcome numerous agents, integrated dealers, and equipment producersall over the world to cooperate with us, to the greatest extent possible to meet your needs.


Are you a factory or trade company?
JXL fiber is a the real factory meanwhile we are listed company
What is your main product?
Outdoor fiber optic cables; indoor fiber optic cables;FTTH Drop cables; ADSS;
Indoor armored patch cords fiber cable; Optical patch cords SC/LC/FC/ST; MTP/MPO optical patch cord.
Product quality guarantee period?
25 years' Guarantee for fiber optic cable

Do you have certificate for raw material?
We build long-term relationship cooperation with qualified ISO9001, ROHS raw material suppliers.

What is your delivery time?
Within 24 hours for 50KM normal kinds of fiber optic cable;
1 ~2 working days for fiber optic patch cords with 10000 connectors.

MOQ: what is your minimum quantity?
MOQ for fiber optic cables: 1KM
There is no MOQ required for fiber optic patch cords,as there's stock for normal kinds.

Payment
For large orders: T/T, L/C
For small orders: T/T,Western Union and Paypal are acceptable.

Shipping & Delivery
Normal orders: shipped by sea
Sample orders: by sea , by air


Welcome to Send us Inquiry on Belowing Table. Start Your Project Today.