Competitive Factory Price Optic Fiber HDPE/MDPE 24 Core Fiber Armoured Outdoor Cable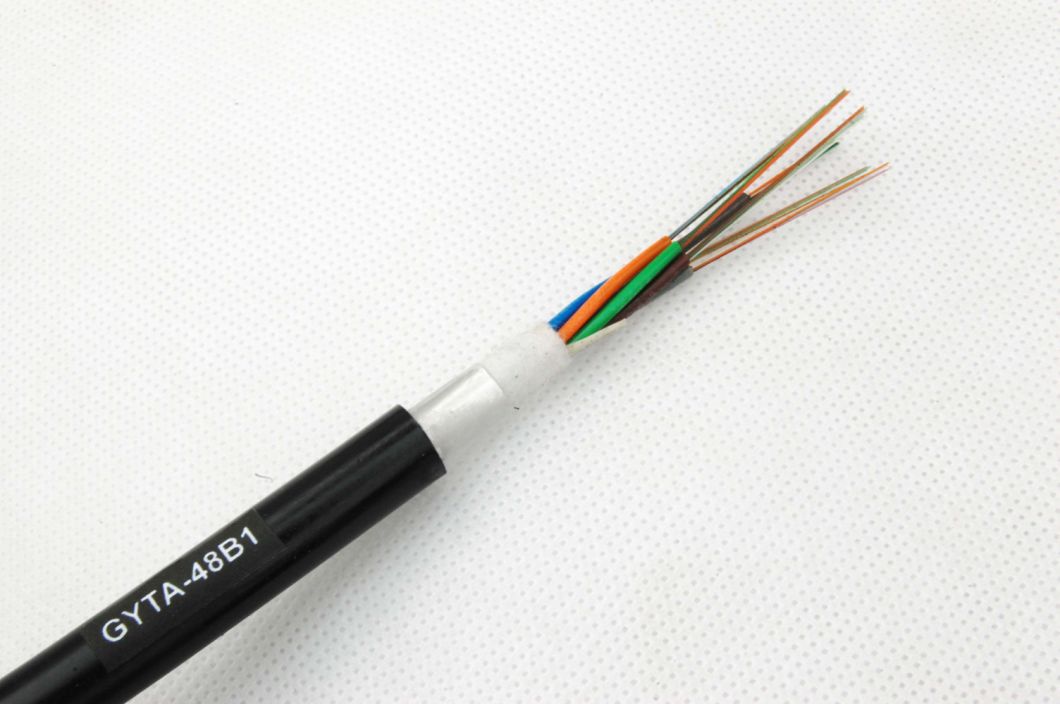 Product Description
GYTA Armored Loose Tube Single Jacket/Single Armor fiber optic cables are designed to provide high fiber
counts with the flexibility and versatility required for today's most demanding installations, including duct and
underground conduit.
Competitive factory prices optic fiber cable with HDPE/MDPE 24/48/96/144/288 core fiber armoured outdoor fiber optic cable GYTA

Application:
These aluminum tape armored cables are suitable for installation in aerial or duct environment for long haul communication. LAN especially suitable for the sifuation of high requirements to moisture resistance.

Features:
1. Up to 288 fibers
2. The loose tube stranding technology make the fibers have good secondary excess length and allow the fibers free movement in the tube. Which keeps the fiber stress-free while the cable is subjected to longitudinal stress.
3. Aluminum tape armored prociding property moisture resistance.
4. Metal strength menber peocides excellent strain performance.
Optical Characteristics:
Fiber Type

G.652

G.655

50/125^m

62.5/125^m

Attenuation

(+20X)

850 nm

<3.0 dB/km

<3.3 dB/km

1300 nm

<1.0 dB/km

<1.0 dB/km

1310 nm

<0.36 dB/km

<0.40 dB/km

1550 nm

<0.22 dB/km

<0.23 dB/km

Bandwidth

850 nm

>500 MHz-km

>200 Mhz-km

1300 nm

>500 MHz-km

>500 Mhz-km

Numerical Aperture

0.200±0.015 NA

0.275±0.015 NA

Cable Cut-off Wavelength cc

<1260 nm

<1450 nm
Technical data:

Fiber Num.

Outer diameter (mm)

Weight (kg/km)

Min. Bending radius(mm)

Tension (N)

Crash loading (N/100mm)

Static

Dynamic

Short term

Long term

Short term

Long term

2-30

9.8

95

10 times
O. D.
20 times
O. D.

1500

600

1000

300

32-36

10.3

115

38-60

10.7

115

62-72

11.3

140

74-96

12.9

175

98-120

14.4

210

122-144

15.8

245

146-216

16.3

260

218-240

19.5

345

242-288

21.7

415